JULIETTE DURAND: RESOURCING THE HUMAN
With great plans come great responsibilities: Quantic Dream welcomes industry veteran Juliette Durand as Head of Human Resources for the Quantic Dream group. With this new hire, our studio will benefit from Juliette's professional experience in both the entertainment and video game sectors as works to support the teams with our sustained growth, both in Paris and Montreal, and to take on new challenges.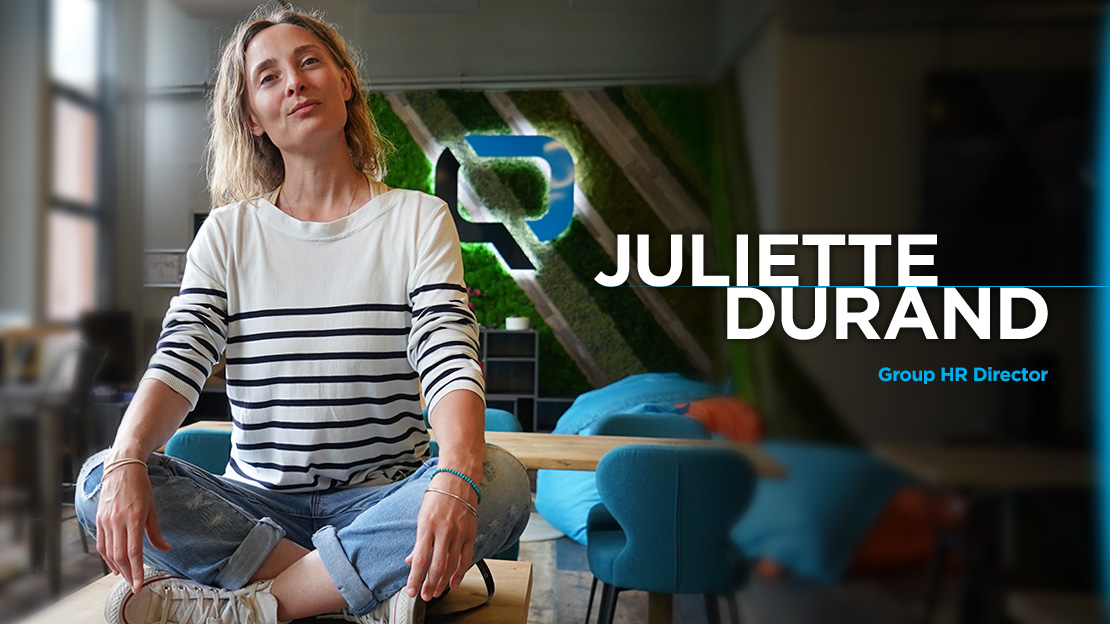 Hello Juliette, thank you for taking the time to speak with us and congratulations on your new position at Quantic Dream! To start us off, can you tell us a bit more about your background?
Juliette: After completing a master's degree in Modern Literature, I wanted to start my career, but I didn't have the maturity needed to clearly define my professional path. So, I decided to keep on searching, thinking that if I couldn't find my way, it would undoubtedly find me. And that's precisely what happened! I happened to be in the right place at the right time when Blizzard Entertainment was set up in Europe. I started working there in a role taking care of administrative functions and slowly but surely the notion of Human Resources came to the forefront. I went on to hold various positions within HR, which allowed me to learn my job on the ground.
After about ten years, I felt the need to go back to school to legitimise my career, so I did a second master's degree in Human Resources. This led me to work at Activision for several years, covering both the France and Spain markets. I then seized an opportunity at Netflix, which was coming to France and Belgium at the time and then finally, I spent a few months at Bolt, where I oversaw the France, Italy, Belgium, Spain & Portugal markets before Quantic Dream came into the picture.
"Now established in two major video game cities, Quantic Dream has entered a new era; it's the perfect time to join and contribute."
Why did you choose Quantic Dream rather than another studio?
Juliette: Generally speaking, I tend to follow my instincts with my decision-making and I felt there was something special here, although it's tricky to articulate. No matter what your affinity is to video games, when you've spent time in the entertainment industry, you'll know that Quantic Dream is a significant player. Even before starting job discussions, I had the idea of returning to this industry one day, but I felt I needed a real opportunity and project that spoke to me. In France, we have several world-renowned studios which focus on either development or publishing specifically, and less commonly on both at the same time. Joining Quantic Dream therefore provided me with an opportunity to have both aspects under the same banner; returning to publishing, an area I know very well, while also being at the heart of the creative process.
In addition to this, former colleagues had also praised the studio for its cutting-edge work, particularly in terms of storytelling and motion capture, which made me all the more curious. Many elements of the work resonated with what I was looking for and when I spoke to our CEOs, Guillaume de Fondaumière and David Cage, I liked their vision and aspirations. It quickly became evident to me that I wanted to be a part of this adventure.
Another real plus was that the opening of the Montreal studio last year had added an international dimension to the company. Now established in two major video game cities, Quantic Dream has entered a new era; it's the perfect time to join and contribute. From a purely logical point of view, joining this team made perfect sense. In the discussions following this, I began to perceive a strong brand and company identity, full of details that make them unique, and this was what fully convinced me. It may not sound like a huge point, but it made all the difference.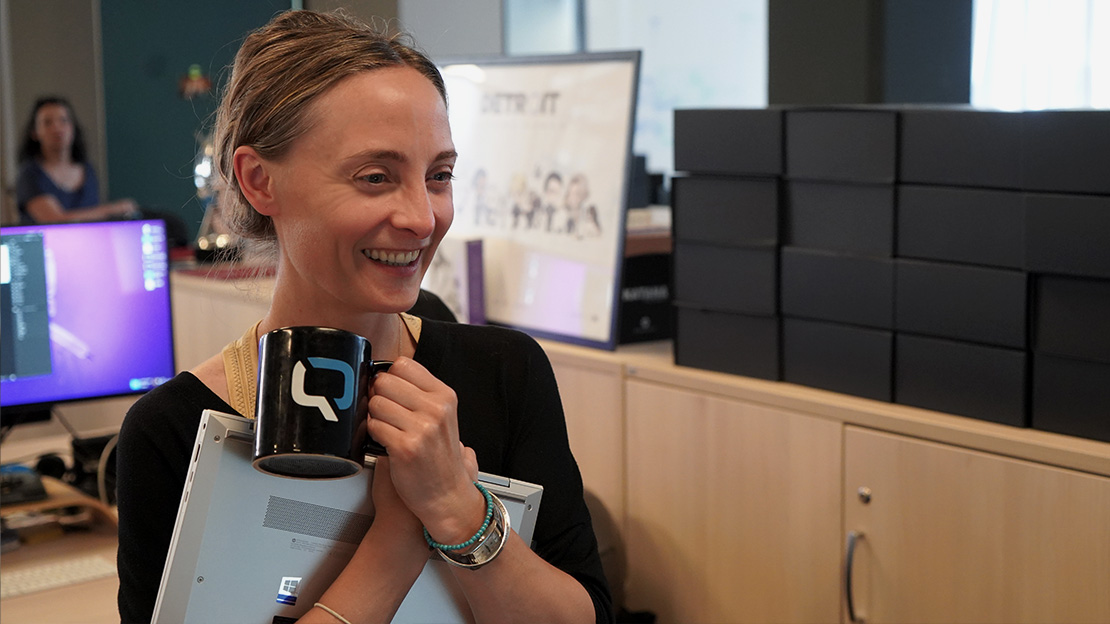 Have you ever had the opportunity to work with Quebec teams?
Juliette: I hadn't before this role but I'm so glad I now have that chance! Who doesn't like to discover new cultures and countries? Whatever the country, it's always interesting to get involved in the overall company as a whole whilst also respecting local specificities. An employer does not become a champion of diversity overnight by ticking all the boxes on a checklist, but it can take the initiative to promote it. Having studios across two different countries helps us to consciously break out of an isolated position, creating a melting pot of different people and experiences. By exposing ourselves to different points of view, we can achieve even more from both from a personal point of view and at the companywide level. More interactions lead to more creativity, and this is a real asset for a studio that creates its own games.
"An employer does not become a champion of diversity overnight by ticking all the boxes on a checklist, but it can take the initiative to promote it."
You officially took up your new post on 11th May, what is your perception of the studio and its teams at this stage?
Juliette: I started on the day that Quantic Dream celebrated its 25th anniversary so I really couldn't have asked for a better first day. You're always a little apprehensive about starting a new role, but I felt so welcomed that the stress fell away immediately. I met people who were open, curious, and caring and the next few days in the office were no different which really helped me to settle in. When you arrive somewhere, whatever your position, you need to be humble and take the time to observe and analyse without passing judgment. I'm joining a company that does and has done many great things, and I must figure out how I will contribute to this. Of course, I have ideas for developing the studio, simplifying specific processes and developing other areas. There are some places to focus on, such as developing diversity in our recruitment processes, and this will be carried over time through in-depth discussions with various employee representatives and spokespeople.
You have a lot of experience in human resources; in your opinion, does the video game industry require a particular approach to the job?
Juliette: Contrary to popular belief, I would say no. The basis of my job is the same, regardless of the company. The video game world has changed radically since its beginnings and it's a high-tech industry made up of highly qualified people. The days of the isolated developer in a garage are long gone; today it's all about engineering, research, and this is especially true for Quantic Dream, which is developing its own game engine and the tools to run it.
What seems crucial to me is that we must bring methods to the video game world that have been tried and tested in other sectors. Without making studios lose their creative strength, we must necessarily create a framework so that each person can bring his or her own touch, express themselves freely, and feel confident in their work. Creation is the essence of video games, but the driving force is and always will be the human being; the people determine the project, not the other way around.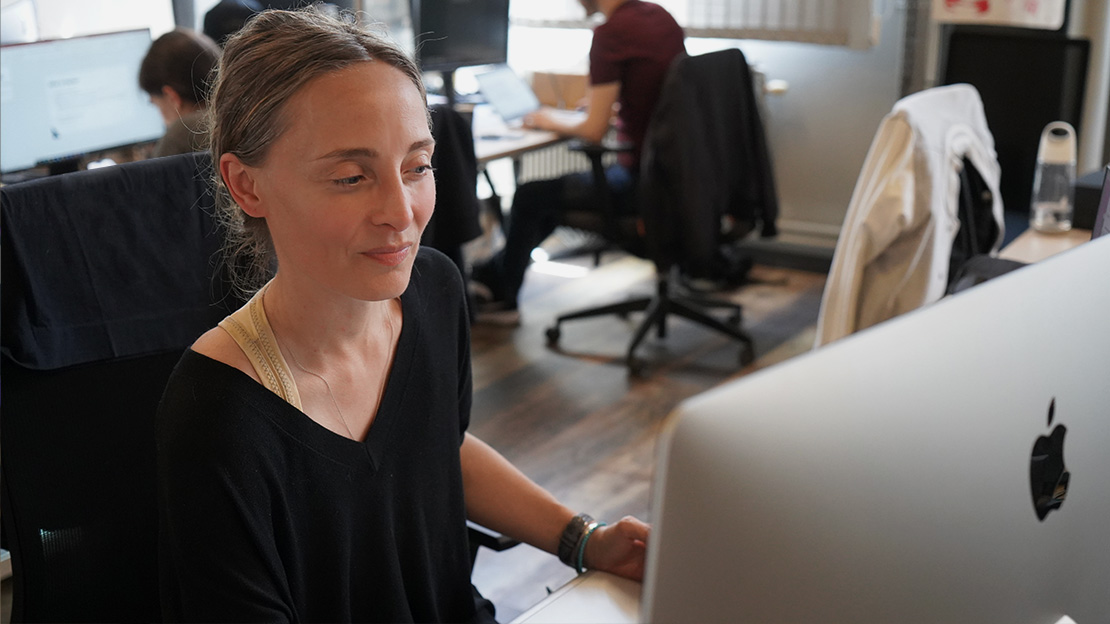 Recruitment is in full swing at the studio, both in Paris and in Montreal; what would you like to say to those who wish to apply?
Juliette: That there are great developments underway within Quantic Dream's dynamic studio, with further plans for expansion and an international opening in place. Now is a great time to join us as there are things to build together in the long term! The video game sector is hyper-competitive and what can make the difference is the little extras, of course, but also above all, the care and attention we give to each person once they join. That's what I want to work on – it's not just a question of offering good conditions on paper, it's also a question of translating these into reality, of listening and creating an environment in which people can blossom and unleash their full creative force.
With the two unannounced projects, the development of Star Wars EclipseTM which is in full swing, and the games being published, we now have positions available in Paris and Montreal and the doors are open for a whole range of job profiles and experience levels. There is motion capture of course, but also sound, photogrammetry, art, programming, research & development, etc. To create Quantic Dream games, with the level of demand that this requires, you need human resources that are up to the task!
"Creation is the essence of video games, but the driving force is and always will be the human being."
And to the Quanticians, what message do you want to convey?
Juliette: Firstly, I'd like to thank you for the warm welcome I received. Then an invitation to continue doing what they love. My aim is to make their professional lives even more fluid and simple, both by bringing in new recruits and by proposing structural and managerial solutions. We are celebrating 25 years of Quantic Dream this year, and we must give ourselves all the means to continue to write this great story with serenity. The studio is evolving, and so are our jobs.
A more personal word to conclude: when you are not working, what do you like to do?
Juliette: Family, friends and hobbies! These days I'm busy working in the house and garden which is a real passion of mine. It's a bit like work, you never get to the bottom of it! I'm also into sports, I do yoga, I run, I swim, it helps me to relax. And after two years of working remotely, going out regularly helps to set a new rhythm. Moreover, that too is part of the challenges a company faces in 2022. You must know how embrace new working conditions and consider the relationship you have with the workplace. For me, nothing is set in stone. It's all about being able to adapt, so that each person can find their balance whilst bringing out the best in themselves. That's essential.
Thanks again Juliette for your availability and good luck for this new mission!
If you are interested in joining us, you can view the job offers by clicking here.