QD & ME – JEAN-CHARLES PERRIER, CHIEF TECHNICAL OFFICER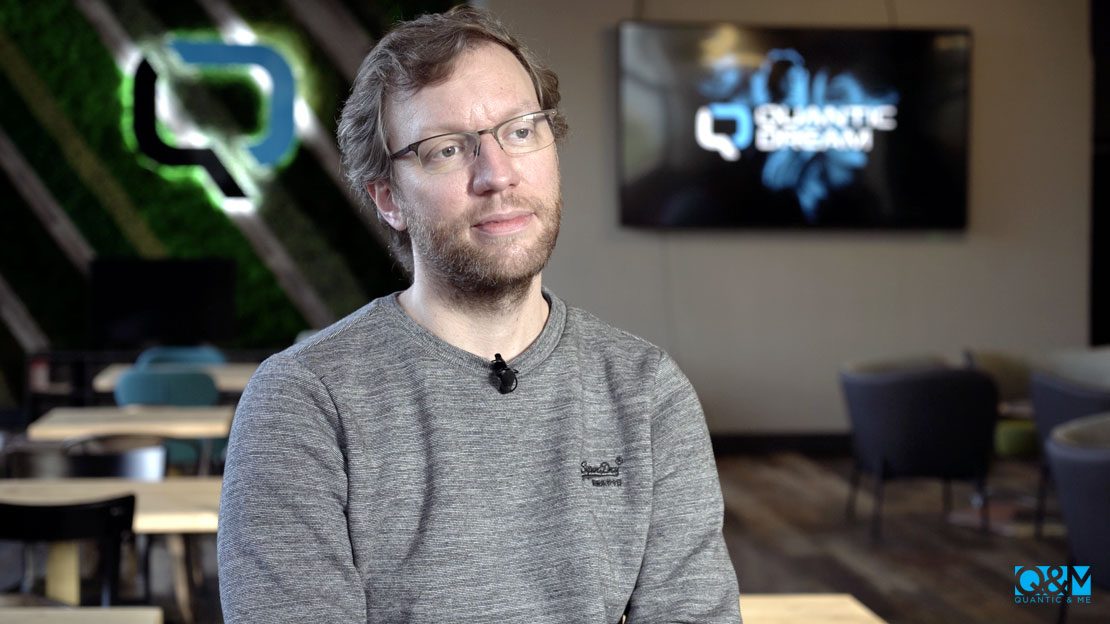 Quantic Dream: Please introduce yourself! What's your name, where are you from, and what is your role at QD?
Hello, I'm Jean-Charles Perrier, I come from Saint-Étienne and I'm Chief Technical Officer; my role is to oversee just about everything technical in the studio. So that's going to include the whole programming part, whether it's the game engine itself, but also all the software produced in-house or the data production pipeline. But it also includes the Information Technology, which therefore concerns all the studio equipment: workstations, servers, calculation farms, etc.
Quantic Dream: How did you come to work in the video games industry? Was it a lifelong dream, or did you luckily stumble into it?
I think that I found myself working in the video game industry after a lot of successive hazards; I've always been interested in gaming, and particularly in programming. I started to get interested in all this in my youth, on Amstrad CPC464 – I'm not sure that this kind of references still speak to many people ? – then on Amiga 1200, before ending on PC. At that time, for me, it was in a self-taught way, working on small games, either in high level languages (Basic, Amos) or a little later in assembler, and also on the graphic engines, which would run without 3D card back in the days…
In short, while chatting on IRC channels, a friend suggested I join a gaming company. I had applied without believing it, given my lack of professional experience in this field, but for some reason, some people were crazy enough to recruit me as a Dreamcast programmer. Without really knowing much about what I was doing at the time, here I was in the world of video games! Even though the company, Polygon Studio, was unable to release the game I was working on, it was really a great experience to be able to work on a this console and some games. I was then hired at Delphine Software as an Xbox programmer, then at Quantic Dream, still on Xbox. I've been here for almost 18 years now and I'm still having as much fun working on our games as when I started. So yes, you could say that it was a long-time dream, which I wasn't really pursuing though, but which found me anyway. ?
Quantic Dream: Let's talk about your job at Quantic Dream! Could you elaborate more on your role, and the role of your team?
I manage the Research & Development team, which role is to provide a game engine supporting the ambitions of the studio, to bring to life the concepts that our game designers have imagined, to visualise the artistic creations of our graphic designers, and to make your ears vibrate with the performances of our sound department. It's also about providing all the necessary tools to all these teams, so that they can produce their data in good conditions and in an efficient way. This is one of the least visible aspects in the final game, yet it's essential for the whole team to be able to produce the huge volume of data required for our games.
Our role is also to translate the desires of the various other professions into technical solutions: how do we make what they want to do fit on a console or PC, how do we make sure that we can produce it quickly, that it simply fits into the game? The R&D team is made up of incredible talents, full of ideas to try and keep pace with all the needs of the other talents in the studio.
Quantic Dream: Tell us more about the members of your team. Any fun story to share?
R&D is a very cohesive team, where we try to ensure that everyone can work in good conditions and on exciting projects. Many of them have been here for a very long time, some have left to explore other horizons, some have come back. We have people with so many different backgrounds, whether they are self-taught, graduate engineer, coders from other industries, experts or beginners, but we all share the same passion, and I think that's one of the ingredients that makes the team efficient.
Quantic Dream: Can you describe to us a typical day for you? Does a typical day even exist for you?
There's no such thing as a typical day, it's usually punctuated by a multitude of different subjects, which either require a very specific focus on a very technical subject, or to ensure that the overall vision remains coherent and well understood by the team. With a horizon as broad as the needs of our games, it's quite easy to focus on systems and forget what they are going to be used for on the project. There's also a lot of communication between teams, whether it's internal to R&D or with other departments in the studio.
Quantic Dream: What are your external inspirations that are reflected in your job?
So, yes and no, since I love working with music, when the task requires me to work alone on the PC. I listen to different styles of music, and in general, in line with the task I'm working on. I find that rhythmic and mechanical things work well enough for debugging, while much more technical and melodious things work well for designing and creating complex systems. Having said that, I doubt that this influence is visibly reflected in the project. ?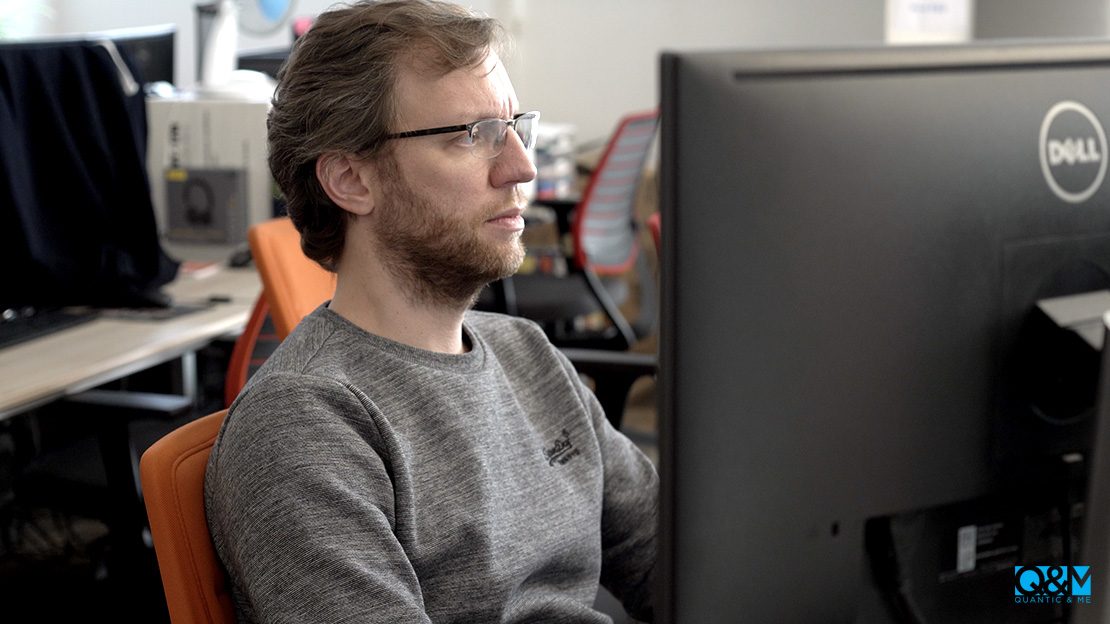 Quantic Dream: Be careful, BIG question… What are your favourite games?
It's a tricky question, I don't really have a favourite game or style of play. I played Quake for a very long time, then Quake 3, mostly in my spare time at the office by the way! But I like a lot of other game styles, like Guitar Hero, Civilization, Horizon Zero Dawn, Spider-Man, Elite: Dangerous, Beat Saber…
Quantic Dream: Tell us more about your hobbies outside of work.
I like everything to do with space, without necessarily having the time to invest myself in it, or in a more general way, to follow scientific news in the broadest sense; there are so many things to discover, know and understand in this universe… I also like everything that is do-it-yourself and expertise or technical mastery of certain crafts. I obviously don't mention video games and programming? Because yes, I also do it as a hobby… :p
Quantic Dream: All right! What does your perfect Friday night look like?
It will depend on the context, either an evening rest / series, or a meeting with the mates in front of a few beers… And to discuss code too loud!
Quantic Dream: Do you have a message for our readers?
First, congratulations for reading so far! Then, if you want to work in the video game industry, there are probably plenty of better ways than the path I've taken, but leave room for the unexpected, take an interest in what makes up a game and how it's produced. Add a pinch of luck – or rather learn to see it coming – shake it off, and it should be good!
Quantic Dream: Final question! Chocolate cake or Fruit pie?
If there were no other choice, I would say fruit tart, but the best is a lemon meringue tart. ?