QD&ME – Aymeric Montouchet – Director of Photography
Quantic Dream is a French video game studio that brings together employees with different profiles and from different backgrounds, both geographically and professionally. In this second entry of a series of blogs, dedicated to introducing Quantic Dream employees, meet Aymeric, Director of Photography.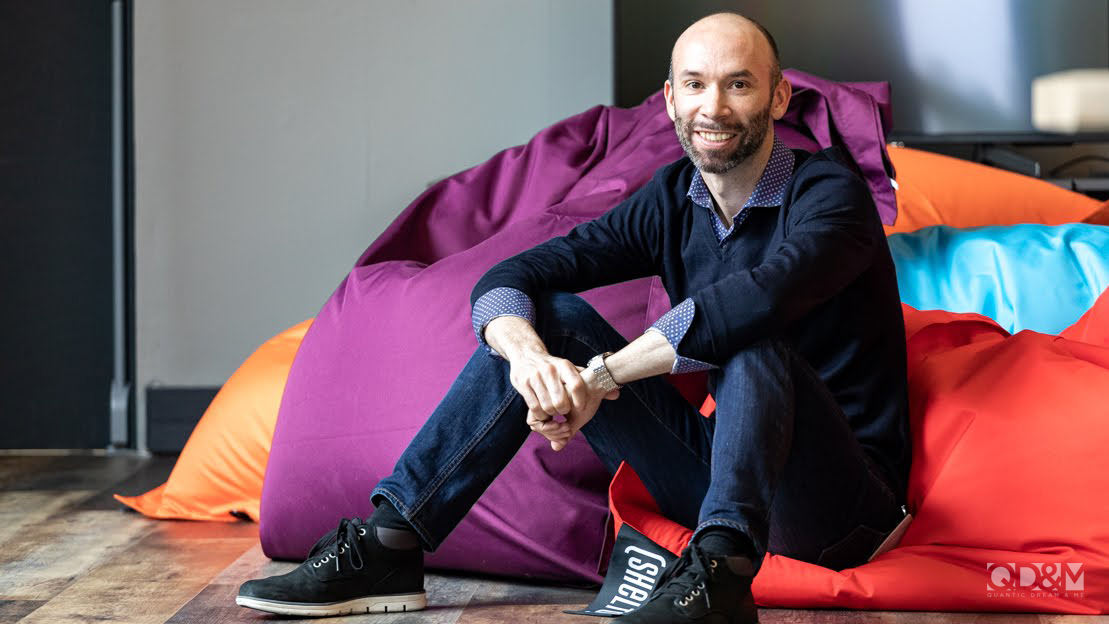 Quantic Dream: Please introduce yourself! What's your name, where are you from, and what is your role at QD?
Aymeric.M: My name is Aymeric Montouchet. I am French-American. Having lived in Hong Kong, Kobe, Los Angeles, and Paris, I consider myself more borderless than from anywhere specific, an earthling if you will. I am Quantic Dream's Director of Photography (DP for short, or Cinematographer).
Quantic Dream: How did you come to work in the video games industry? Was it a lifelong dream, or did you luckily stumble into it?
Aymeric.M: After graduate school, I worked in the entertainment industry in Los Angeles. I started managing video production for an independent record label. We would produce and shoot music videos and EPKs for our artists. Then I did a lot of freelance work as a DP (Director of Photography), 2nd Unit DP, Camera Operator, 1st and 2nd Assistant Camera, and Digital Imaging Technician, on music videos, television commercials, short films, and a few feature length projects. I was also editing lots of TV commercials at the time, which allowed me to edit in my head as I shot, providing editors with good coverage and b-roll. It is an efficient way to work. After 17 years in Los Angeles, I left Hollywood for Paris, because of love. My wife is Parisian; we wanted to start a family. She had a job in Paris and I was freelance.
I met Christophe Brusseaux (Quantic Dream's Graphics Director) and David Cage through a mutual friend. I did not know video game companies were hiring DPs, but it made complete sense for Quantic Dream.
Here at Quantic Dream, we pride ourselves on making stunning visual projects with strong cinematography. I was immediately attracted to that philosophy, as well as the innovation and perfectionism that I saw in David, Christophe, and their projects.
In that sense, I stumbled on it. I had a tremendous amount to learn, and a lot to contribute, which was exhilarating.
Quantic Dream: Let's talk about your job at Quantic Dream! Could you elaborate more on your role, and the role of your team?
Aymeric.M: My role is basically the same as it was in the film and video industry, but the tools are drastically different. In Los Angeles, I did not do a lot of VFX (visual effects) or post-production heavy work. My mentors were from the school of in-camera effects. We would flare the lens, open the camera door and flash the negative, stick junk in front of or behind the lens, or start/stop the camera for effect. Thankfully, I worked through the transition to digital cinema. So I had to go from being on set, lighting and shooting with my teams (camera, lighting and grip), to managing computer graphics artists with backgrounds in VFX and animation.
The hierarchy is very different, and you have to let and encourage artists to provide their input. I had to let go of some control and find different ways to communicate, which was very challenging at first.
Basically, I now work with the director, art directors, camera and lighting teams, and developers. It is like having many camera operators and gaffers to work with on a single project. The leads are the key. We discuss the style and they implement it with their team as best as possible, finding that delicate balance between cinematography, and the constraints of gameplay and real-time engines.
The developers push the boundaries of what is possible. We constantly chase new techniques to improve the visual quality of our work.
Whether in film or games the ultimate goal is the same. We serve the story. We take the audience on an emotional journey, and attempt to make it as visually compelling and relevant as possible.
Quantic Dream: Tell us more about the members of your team. Any fun story to share ?
Aymeric.M: The lighting team is broken up into two. There is the set lighting, which is like shooting the wide establishing shot of a film. The set artists, under the leadership of Sebastien Andre and with the help of Nicolas Bruneau, our Lighting Technical Director, light the sets and create the mood. They work tirelessly until we reach our goals, then they iterate some more. I have a lot of respect for those guys.
Then there are the cinematics or cutscenes, which I tend to watch closely. That is like shooting close ups in film, where we model and refine the light. The cinematics are real time, not video. Since the player does not have control, we know what the camera sees, or will see, and can optimize the render. This gives us a little room for better light and shadows. Those lighting artists have to work extremely fast to light an ever-changing and ever-growing number of shots. The sheer number is dizzying.
Your average film has between 1500 and 3500 shots. David Cage along with Maxime Brochen and his camera team, created nearly 35,000 shots for Detroit: Become Human. In the end, around 30,000 of those shots are used in the game. Over 27,000 of those had to be individually lit by the Lighting Artists. The numbers speak for the tremendous amount of work those amazing camera and lighting artists put into Detroit: Become Human.
Quantic Dream: Can you describe to us a typical day for you? Does a typical day even exist for you?
Aymeric.M: There is no typical day for me as the production steps really define what I do on a daily basis. If we had to sum it up, I would say it is about defining a look, and implementing it through the artists' contribution over time. It is about people and their artistic sensibilities. It is about finding ways to improve the visual quality. It is about self-improvement, learning, questioning. There is a lot of reviewing, discussing the intention of a scene or shot (in conjunction with Christophe Brusseaux, the Art Director), and finding ways to sustain it across from shot to shot, or scene to scene. Then there is some color grading or color correction at the end to lock in the look.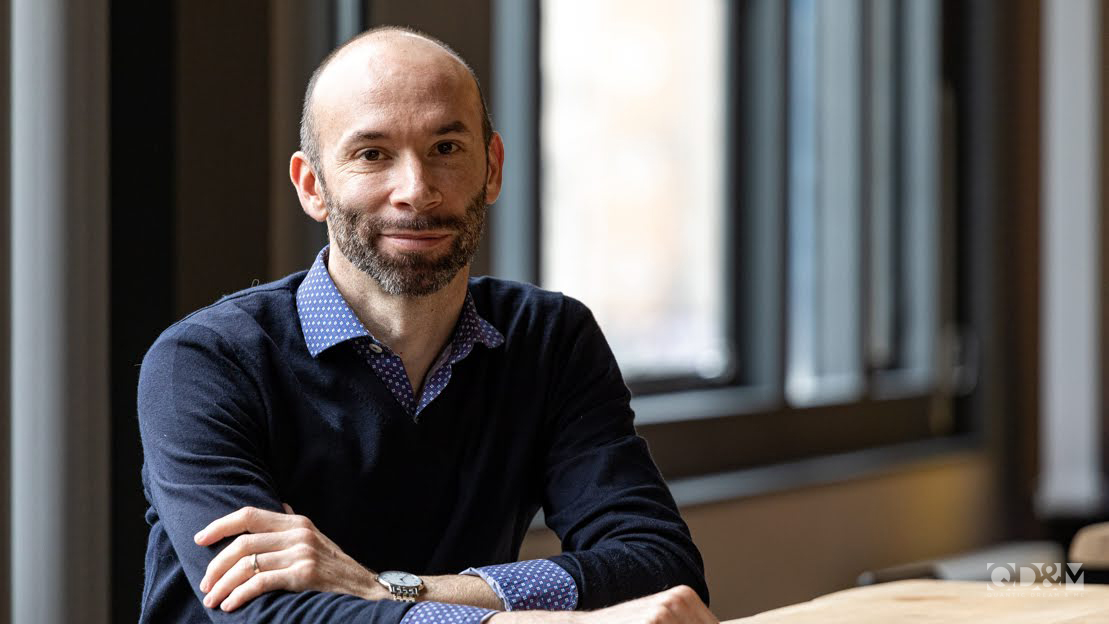 Quantic Dream: What are your external inspirations that are reflected in your job?
Aymeric.M: My wife and kids have taught me a ton about people, patience and management. I am still learning… My wife keeps me grounded and gives me perspective when I have tunnel vision. I am a big fan of Conrad Hall and Roger Deakins, Christopher Doyle's work with Wong Kar Wai, and the 17th century painter Georges De La Tour. I would say I pull inspiration from everything and everywhere. I am cursed with seeing light. I feel like I have a voyeuristic relationship with light. I watch it doing things. Then when the opportunity presents itself, I try to throw some of what I catch into the project; otherwise, I store it in my mind for later use.
My wife and kids have taught me a ton about people, patience and management. I am still learning…
Quantic Dream: Be careful, BIG question… What are your favourite games?
Aymeric.M: My favorite games are Detroit: Become Human, and those metal and wood puzzles. Sorry.
In college, my roommates and I played James Bond Golden Eye for a few days straight. After missing a few classes, I decided I should not do that again. That does not mean I do not look at what others are doing, or get inspired by them, but rather I gear my free time toward my kids.
Quantic Dream: Tell us more about your hobbies outside of work.
Aymeric.M: I was pretty active as a kid, and I enjoy teaching my kids to try new activities. Whether it is climbing, roller-skating, running, jumping, cycling, skiing, surfing, windsurfing, it is all about pushing yourself beyond your comfort zone, and that sense of accomplishment and success you get from it, no matter the failures that preceded. These days I try to make time to climb, mountain bike, or play squash. I would love to summit a mountain in the near future (it is the Savoyard in me, I was born in the French Alps).
Quantic Dream: All right! What does your perfect Friday night look like?
Aymeric.M: Perfect Friday night would either be a romantic dinner and movie with my wife and soulmate, or a dinner with friends and kids.
Quantic Dream: Do you have a message for our readers?
Aymeric.M: I want to share some advice I got in my life. The first: my grandfather had a motto, which came from the Compagnons du Devoir: "Do not help yourself, or enslave yourself, SERVE." It is a way of life, but also the role of cinematography. It cannot be self-important at the expense of the story, or become a slave to the story and have no identity. Cinematography must serve the story by telling it visually the best way possible.
Secondly: my mentors have always said to trust one's eye. We rely on tools and tech for so many things, but in the end, we have sensibilities that machines cannot yet equate. Yes, they are subjective, and our human tools are so adaptable as to become biased, but there is a balance in there that has true value.
Finally, do not linger in the past. You learn from your failures and move on, just as you enjoy your successes and move on. Lingering in either is unhealthy.
Quantic Dream: Final question! Chocolate cake or Fruit pie?
Aymeric.M: Kouign Amann (butter cake), no contest (it is the Briton in me, my grandmother was from Brittany). Although a fresh Dunkin Donut comes a close second (it is the American in me… you see my predicament).
……………………………………………………………………………………….
Thanks for reading! If you want to keep in touch with him, follow Aymeric on Twitter!
Pictures by Julien Braconnier