CHARLES COUTIER, FROM PARIS TO MONTREAL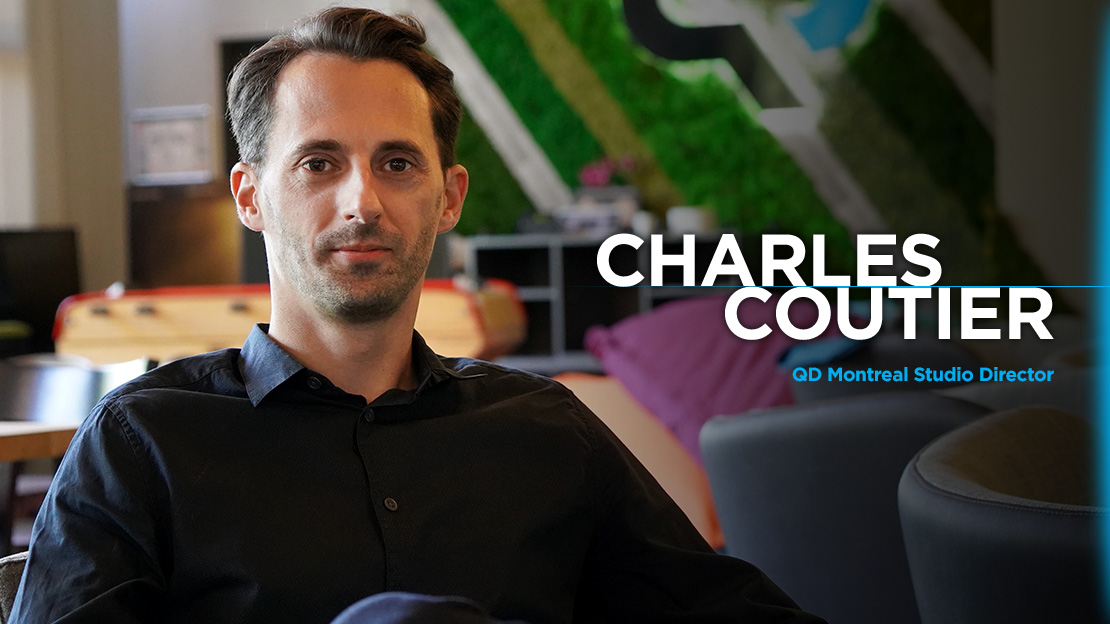 Charles Coutier is a name that instantly evokes a whole part of Quantic Dream's history when pronounced in the presence of the oldest recruits. Having arrived at the studio in the mid-2000s to work on the production of Fahrenheit: Indigo Prophecy, Charles contributed to writing some of the most significant pages of the Parisian studio, before taking off to carve a new path in Montreal. Seven years later, he returned to his roots by taking over the reins of our Quebec studio, coming back to Quantic Dream with a full bar of fresh XP!
Quantic Dream – Hello Charles! The older members of the studio and fans of our games already know you, but for those who arrived after 2015, can you introduce yourself in a few words?
Charles Coutier: I started my career in video games 18 years ago at Quantic Dream, in Paris, as a Production Intern. Then I progressively took responsibilities through the different demos and milestones and became the Producer of Heavy Rain and Beyond: Two Souls. I then decided at the end of the pre-production of Detroit: Become Human to leave for new adventures in Montreal with my little family.
Quantic Dream – 7 years have passed between your last Quantic Dream production, Detroit: Become Human, and this month of May 2022 when we are talking. What has happened during this time?
Charles Coutier: When I left Paris, I joined Warner Bros Games Montreal, which had just worked on Batman: Arkham Origins. I came on board an unannounced project, which was rebooted after a few months to become Gotham Knights. We started from scratch to get to this AAA blockbuster that will be released in a few months.
Quantic Dream – Let's talk about why you are back at Quantic Dream. After working for several years in the Parisian studio, here you are in the Montreal offices. Same player, same studio, but new team?
Charles Coutier: Haha, yes, exactly! I'm lucky enough to have worked on both sides of the Atlantic and seen these two subtly different work cultures. I've always had good memories of my time at Quantic Dream, and my Montreal experience will help me a lot to meet the challenges that lie ahead. The studio has changed a lot since I left; it has grown into a multi-project and a publisher, but the spirit has remained the same, driven by innovation.
Quantic Dream – What motivated this return?
Charles Coutier: To be precise, it was this challenge of enabling very different people work together on joint projects. This desire initially got me into video games and hasn't ever left since. I was also very motivated to meet up with old friends, work with David Cage again and discover the new talents on the team. And then the projects also gave me a lot more. Star Wars EclipseTM, of course, is a childhood dream – a nod to the Quebecers 😉 – and the other unannounced projects also intrigued and convinced me enormously.
Quantic Dream – You come from Production, and you are now Studio Director. What are the bridges between the two jobs?
Charles Coutier: I think that having a deep knowledge of production will help me understand the needs of the teams and the projects to develop the studio in the right direction. I will be able to understand the challenges of the developers and support them in the best possible way.
Quantic Dream – Do you already have any ideas about the direction you want to take Quantic Dream Montreal in?
Charles Coutier: I am lucky to come back when the team is in a perfect state of mind. We have a lot of challenges to face, but I feel that the team is lucid, positive and very motivated. Several values that are dear to me and at the heart of our studio:
1/ Transparency and trust. The team needs to be able to say things to each other, to have room for honest discussions, with great mutual respect. The quality of the discussions directly impacts the quality of what we produce. And trust is essential for a successful team; I can quote the speaker Simon Sinek, who sums it up very well: "A team is not a group of people who work together. A team is a group of people who trust each other. "
2/ A healthy, supportive and inclusive environment. For the previous point to work, each person has to be able to be themselves, but also to speak to each other; it is essential that they feel safe. I want us to have a respectful environment where people can make mistakes, ask questions or throw out ideas freely. That's one of the keys to having a creative and successful team: they must feel safe. Of course, we need to include talent from all walks of life and be inclusive in our team, but also through the content we produce.
3/ The search for innovation and excellence. This must be at the heart of our daily work, supported and made possible by the two previous points. It is no coincidence that the studio is more dynamic and solid than ever after 25 years of existence. Quantic Dream continues to strive to deliver memorable experiences to players from Paris and Montreal.
Quantic Dream – Well, thank you Charles for giving us some of your time, and welcome back to Quantic Dream; we'll leave you the last word!
Charles Coutier: Let's goooooo!
Editor's note: Charles and the team in Montreal have exciting openings, if you're interested in joining them on their adventure check out our careers site here!