QD & ME – CHRISTOPHE BRUSSEAUX, ART DIRECTOR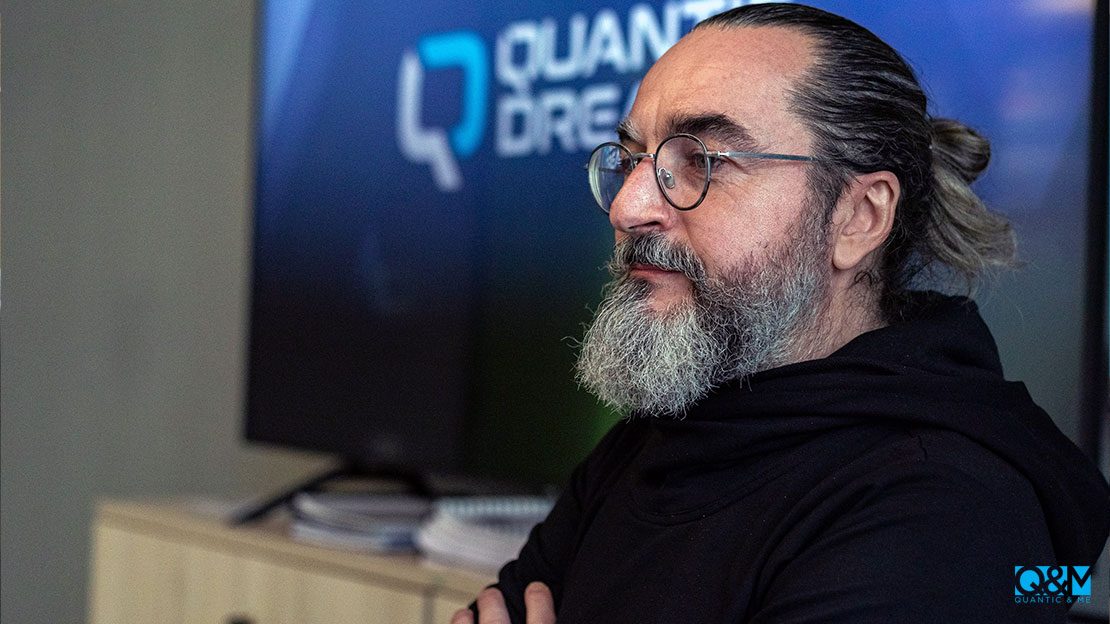 Quantic Dream: Please introduce yourself! What's your name, where are you from, and what is your role at QD?
First, hello to all of you. My name is Christophe Brusseaux and I am the Art Director of the studio. My role is to artistically oversee the projects developed by the teams, from the conception phase to the finalization phase of the game.
Quantic Dream: How did you come to work in the video games industry? Was it a lifelong dream, or did you luckily stumble into it?
Wow, it's a long story. Long because I've already been working in the industry for 27 years! I discovered video games in the early 80's, as a gamer. Even if the graphics were rather sketchy at the time, it was a real revolution in my already well-fed teenager's imagination. I was already into US comics, Metal Hurlant, classic role-playing games, sci-fi and fantasy books… And since then I never stopped playing.
As for my first steps in this industry, it was both of a contest of circumstance and an incredible opportunity. It just so happens that a Parisian video game studio – Delphine Software International, creator of the Flashback game – was looking for someone to test their latest game. I applied and very quickly felt connected to this young, cohesive and multidisciplinary team. At that time, I was really into sculpture, airbrush and resin models. The graphic designers of this studio, most of them self-taught, discovering my personal work, offered me a training in the techniques used back then in 3D, pixel art and animation… It all started like that.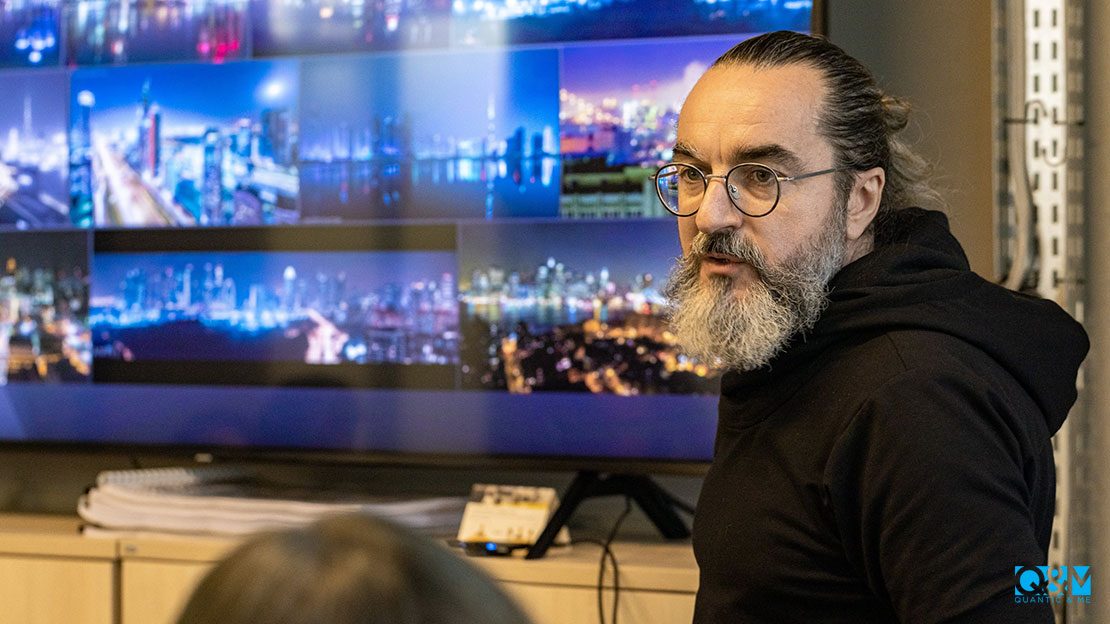 Quantic Dream: Let's talk about your job at Quantic Dream! Could you elaborate more on your role, and the role of your team?
My role is to imagine the major visual orientations of each of our projects, based on script and game design, as well as to develop their universes, from the interface to concept arts, from sets to 3D, etc. I'm also in charge of the development of the visual assets. Of course, this is above all a collective task, where each of the talents of the team's artists is expressed! So, I help all these talented artists with the visual and technical implementation, while ensuring the coherence of the whole picture.
Quantic Dream: Tell us more about the members of your team. Any fun story to share?
The team has been built over the years around a core of very experienced senior artists. For the oldest of them, they are self-taught, with varied experiences ranging from real-time video games to CG animated films or VFX. This core team has been joined over time by young artists coming out of specialized schools. From this joyful meeting of talents, experience and various influences, a true complementarity is born, and this really is the strength of our team.
Now, I don't any specific story to tell, but it's often funny and comical that in the course of a conversation, the youngest discover the often chaotic career path of their older colleagues and their contribution to the industry through what appears iconic games for some.
Quantic Dream: Can you describe to us a typical day for you? Does a typical day even exist for you?
Not really. My day is filled with meetings and brainstorms with the artists and review what's being produced and what's still work in progress. The other part is mainly focused on the visual research related to the projects: mood boards, concept arts, brainstorm, 3D, technique… I like to work and collaborate in a group for the energy, the dynamics and the outside view that it gives to everyone.
So, no routine, even if the work pace remains very high and the days are sometimes too short. I've always told myself that when comes the time I'm not learning anything new daily, it will be time for me to leave. Fortunately, so far, each day brings its challenges and its share of discoveries.
Quantic Dream: What are your external inspirations that are reflected in your job?
Well, it's difficult to quantify and identify clearly a personal influence because we all contribute to the project, each at our own level. It's perhaps more visible in my high-level intentions: for example, for me, the interface must have a life of its own, it's a glimpse of the whole game universe, not just a "screen" that stands between the virtual and reality, that takes the player out of the experience.
My interest in painters and movie directors also leads me to try to get rid of the cold and very "video game" aesthetic of the images. I want to "break the pixel", so to speak, to produce a more vibrant, more impressionistic image.
Then, my influences come from the punk culture, RanXerox by Liberatore – a living god of drawing! – or US comics such as Judge Dredd, The Boys, Sean Gordon Murphy, Mike Mignola… But who knows, maybe one day they will be part of a game project? ?
Quantic Dream: Be careful, BIG question… What are your favourite games?
It's a complicated question because it's always difficult to make a ranking without sacrificing pure wonders to the list and because each game can be important for a very specific aspect. That being said, I can answer with The Order 1886 for the visual slap – still awesome, even after all these years! -, Horizon Zero Dawn, Monster Hunter World (co-op, very technical gameplay) and the gone too soon Paragon, which for me was the revival of the MOBA FPS.
Quantic Dream: Tell us more about your hobbies outside of work.
It's underlying through the previous questions but basically, I'm a real collector/lover of books (sci-fi, art, comics…), vinyl records and ceramics. Food for the soul and mind. Otherwise, I've been kayaking and surfing by rough sea for more than twelve years now and I'm waiting for Quantic Dream to finally open a studio by the sea, but I still haven't managed to convince Guillaume & David ?
Quantic Dream: All right! What does your perfect Friday night look like?
Cooking while waiting for my friends who come for dinner, listening to a good vinyl – let's say "What's Going On" by Marvin Gaye – while keeping an eye on tomorrow's wave forecast.
Quantic Dream: Do you have a message for our readers?
I once came across this sentence in a book, that has deeply marked the rest of my life: "To live in the din of our dreams and feign silence". We should never live in the din of our dreams, but rather live those dreams and shout it loud and clear!
Quantic Dream: Final question! Chocolate cake or Fruit pie?
Neither one nor the other. I'm more into Paris-Brest, with a small glass of peated whisky in hand – in moderation, of course.
…………………………………………………………………
Pictures by Julien Braconnier