QD&ME – MICHEL MROZEK – LEVEL DESIGNER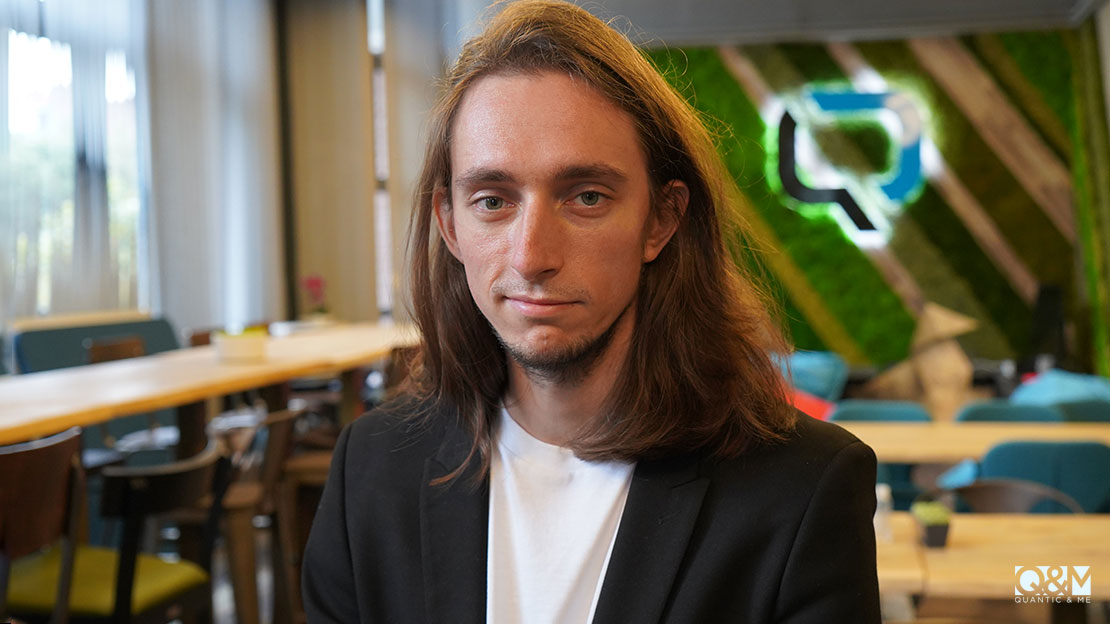 Quantic Dream: Please introduce yourself! What's your name, where are you from, and what is your role at QD?
My name is Michel Mrozek. My family came to Canada from Poland many years ago. I was born and raised in Montreal, where I have lived my whole life. I am a Level Designer at the Montreal studio of Quantic Dream, and I am working on Star Wars EclipseTM. 
QD: How did you come to work in the video games industry? Was it a lifelong dream, or did you luckily stumble into it?
Initially, I was not fully conscious of my passion, but it was, indeed, a lifelong dream. I grew up on the Nintendo 64 with The Legend of Zelda: Ocarina of Time. It was the Pandora's Box that started this adventure. While growing up, my love for cinema and video games was equally divided between both mediums. It was impossible to choose. By chance, I found myself working at GameBuzz – what used to be a Quebec version of EB Games/GameStop. We had not only current generation games but also old consoles: Super NES, Nintendo 64, GameCube, PlayStation 1, PlayStation 2, etc. As an employee, I had the privilege of having the first pick from our inventory with a small discount. This gave me a perfect opportunity to start my collection of classic video games. It was an incredibly formative time in my life when I had the freedom to immerse myself in the world of cinema and video games fully. I discovered my deep passion for Narrative. During that time, I realized that video games could be the common ground for all my passions: story, cinematography, gameplay, challenge, and music. After GameBuzz closed, I immediately became a full-time student in Level Design.
QD: Let's talk about your job at Quantic Dream! Could you elaborate more on your role, and the role of your team?
As a Level Designer, I do everything in my power to help craft the best gameplay experience possible. Mostly, I build 3D environments based on the script we get from the Writing team. My level design must support the Narrative and Artistic Direction for our game. Every day I work closely with many people to build these incredible scenes. Almost every department is in close contact with level design, so I support many people in their workflow. It's pretty exciting! Finally, I deeply value the creative input from my colleagues, who are always there to share their skills, opinions, and ideas with me. It helps significantly to enrich the overall experience! So, I make sure to pick their brains as often as humanly possible.
QD: Tell us more about the members of your team. Any fun story to share?
The Montreal team is relatively small for now, but we are already a hell of a team! There is no denying that the most fun we have had thus far was our group trip to Paris to meet the rest of our Quantic Dream team. It was a wonderful experience for everyone involved! The reveal of our game Star Wars EclipseTM was yet another incredible moment for us. We are all very excited to be working on such an ambitious and iconic project.
QD: Can you describe to us a typical day for you? Does a typical day even exist for you?
The first half of my day is often filled with meetings since the work time window for the Paris and Montreal teams is very small. Apart from that, I regularly communicate my intentions to my Leads, Directors, Producers, and Artists. Most of my time is spent building content for the team to review. It is a very collaborative process that requires lots of feedback. The most special part about working at Quantic Dream is that I wake up excited to get to work every day. The project is exciting and challenging, and the team is incredible.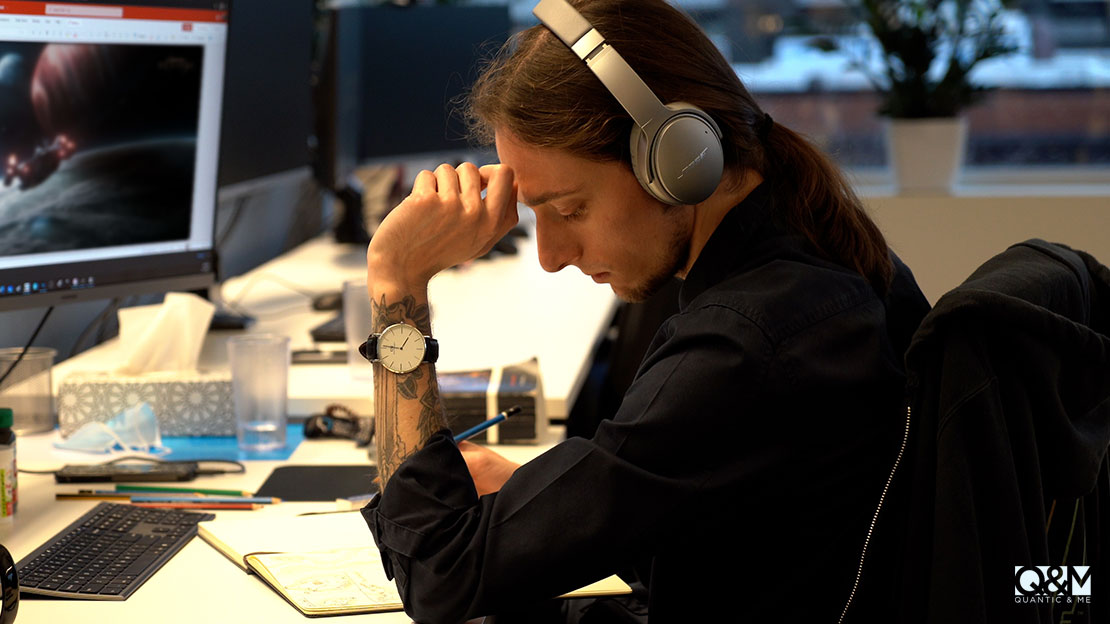 QD: What are your external inspirations that are reflected in your job?
Cinema is the most significant source of inspiration for me. Cinematography and direction are at the core of my values as a Level Designer. When I find a director whose films I love, I make it my mission to watch their entire filmography. I always have an endless pile of great films to watch, and it only keeps growing! A few examples from my current pile: Seven Samurai (Akira Kurosawa), The Last Emperor (Bernardo Bertolucci), The Conformist (Bernardo Bertolucci), Barton Fink (Coen Brothers), Crash (David Cronenberg), Gandhi (Richard Attenborough), The Bridge On the River Kwai (David Lean).
Finally, I love reading. Well, I am a bookworm! If you see me walking around without a book, assume I am deathly ill. I believe that inspiration can come from any source. Classic literature is an essential source of inspiration for me, even if this medium is utterly different from Level Design.
QD: Be careful, BIG question… What are your favourite games?
There is no denying that Japanese games have been incredibly influential for me. The original Silent Hill trilogy is untouchable in my books. P.T. is also a modern masterpiece, along with the rest of Hideo Kojima's entire Metal Gear Solid series. For other Japanese classics that I hold very dear in my heart: Persona 5, The Legend of Zelda (all of them), Dark Souls (everything From Software has made since 2009), Shadow of the Colossus, Resident Evil 2, Final Fantasy VIII, Castlevania Symphony of the Night, Metroid Prime… just to name a few!
Of course, there are many incredible games made outside of Japan. Most recently, Hades absolutely blew me away! To name several games that have a special place in my heart: Mass Effect trilogy, Bioshock 1, God of War, Warcraft III, Uncharted 1-4, The Last of Us 1 & 2, The Witcher 3… This list gets very long, very fast! 
Finally, Indie games have been on absolute fire in the last Decade: Disco Elysium, Inscryption, Inside, Undertale, Return of the Obra Dinn, Outer Wilds… We live in an incredible time for gamers.
QD: Tell us more about your hobbies outside of work.
Music is an integral part of my life. It is the lifeblood of my creative workflow. I do not play instruments, though I know how to smash out some riffs on the guitar. For my entire life, I deep dive into many genres of music. Paired with music, I love going on hour-long runs. It is my way of simultaneously exercising and processing creative ideas. Every year, I cannot wait for the Canadian winter to end, so I can finally get back outside, run, sweat, and blast music in my ears. Apart from music and taking care of my health, I have recently started a YouTube channel called The Bottomless Pit.
Talking about game development and various other art forms profoundly interests me. Along with exploring my favorite games, movies, books, and music… I see this as an opportunity to continue teaching Level Design and a gateway to learn more about my own craft. It's just the beginning of this YouTube channel, but I plan to invest in this over a long time. Stay tuned for future updates!
QD: All right! What does your perfect Friday night look like?
Relaxing with my love and watching a great movie <3
QD: Do you have a message for our readers?
Stay true to your passions and work hard. But above all, be patient. Hard work always pays off in the end ❤
QD: Final question! Chocolate cake or Fruit pie?
No hate on chocolate, but without a moment of hesitation, I am going for a fruit pie! ❤