QD & ME – MAÉVA RAMKALIA, NARRATIVE DESIGNER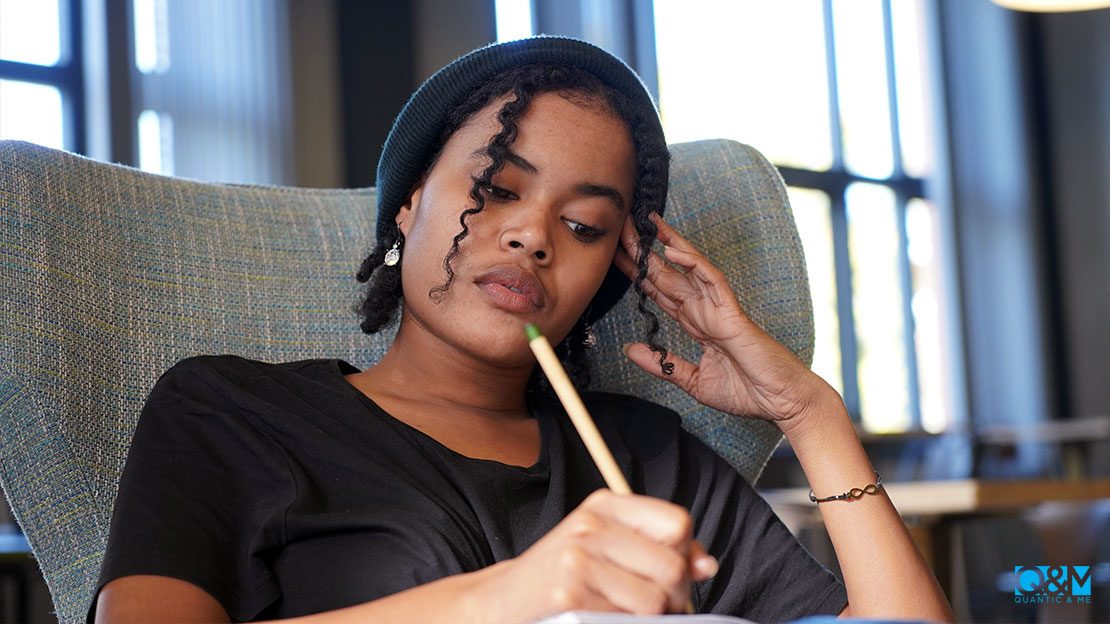 Quantic Dream: Please introduce yourself! What's your name, where are you from, and what is your role at QD?
I'm Maéva 🙂 I'm a Narrative Designer at Quantic Dream.
Quantic Dream: How did you come to work in the video games industry? Was it a lifelong dream, or did you luckily stumble into it?
I arrived here a little by chance. But a happy coincidence! I really am a screenwriter; a film and series writer, frankly, although I've written a bit of everything. Video games were a real discovery for me. But I find that being able to give the spectator the means to become an actor, and to influence the narration that is proposed to him, offers a multitude of possibilities. It's the logical next step when you want to go further in the narrative.
Quantic Dream: Let's talk about your job at Quantic Dream! Could you elaborate more on your role, and the role of your team?
Narrative Designers are responsible for the narrative vision and how it fits into the overall gaming experience, making it as coherent as possible. In addition to this design work, we spend a considerable amount of time writing the interactive dialogues and structuring the narrative.
Quantic Dream: Tell us more about the members of your team. Any fun story to share?
We're a very small narrative team on our project, for now – we're just two – so presentations will be quick. There's Baptiste and… me 🙂 Baptiste is a real video game enthusiast and joining Quantic Dream was a long-time dream for him. We're a rather complementary pair; when I joined the studio, I had a lot of trouble understanding all the technical video game terms, me coming from the cinema. Baptiste was always there, like my shadow, whispering definitions of everything to me. Well, now it's all right, I can handle it. .
Quantic Dream: Can you describe to us a typical day for you? Does a typical day even exist for you?
I don't know if we can say that we have a "typical day", but globally, it starts with a meeting with the rest of the development team: each one exposes his objectives, his difficulties, his needs, his accomplishments. And then it's off, sometimes I write all day, sometimes it's just reflection. What's interesting about writing and storytelling in general is that you're always questioning, iterating, researching. Somehow, we're always doing the same thing but in a different way. Well, then there's the rewriting part, and then… We rewrite and rewrite and rewrite.
Quantic Dream: What are your external inspirations that are reflected in your job?
As a linear fiction writer, I write a lot of thriller or drama, my main inspiration being the real fact. I like to create complex characters – and then make them drool all along the script otherwise it's not funny – and original characters that reflect the multiplicity of the human being. I started writing in the hope of including realities that I felt were absent from the media, such as diversity. I like to believe that my presence at Quantic Dream offers a more diverse view of minorities. This is what I try to do in my writing as a screenwriter and what I hope to do as a Narrative Designer as well.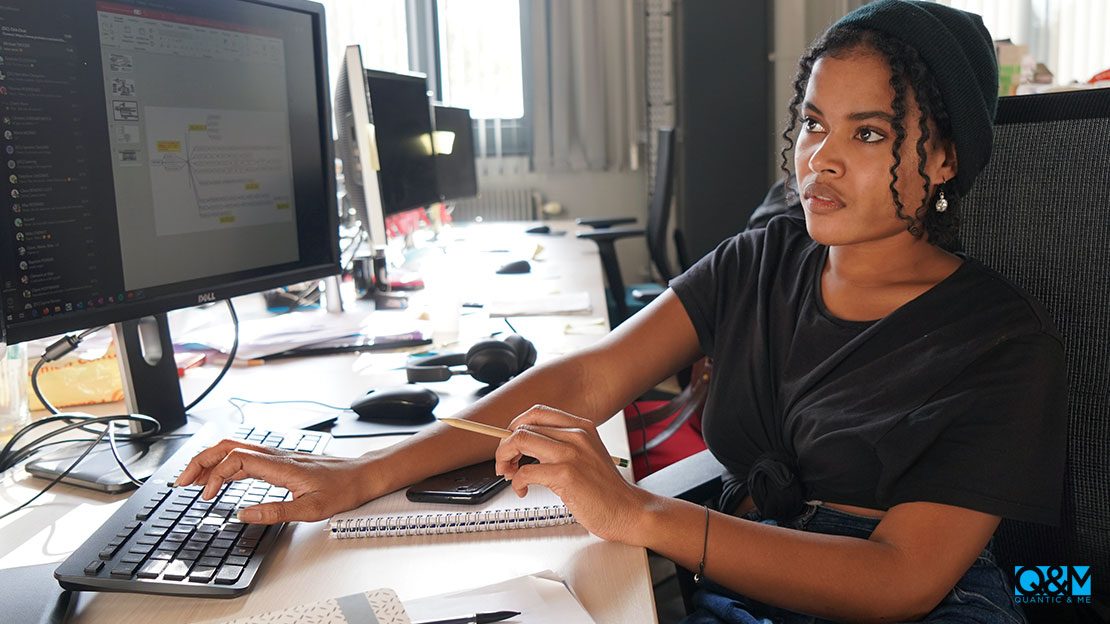 Quantic Dream: Be careful, BIG question… What are your favourite games?
Tricky one, indeed! Well, I'm not going to lie: I'm not a gamer. I love video games and I consider them an art but I'm also awfully clumsy and I don't know the difference between left and right – yes, I swear! So, I'm better off watching others play. The person who tells you how to do this or that while not touching a controller… Guilty as charged, that's me! I really enjoyed watching Until Dawn, and Hellblade: Senua's sacrifice. Otherwise, I play a lot of role-playing games. Right now, The Call of Cthulhu, Vampire, and Dread – although I'm just as bad with dice as with a gamepad, unfortunately.
Quantic Dream: Tell us more about your hobbies outside of work.
I was lucky enough to make my passion my profession. My interests outside of work are therefore quite similar to my job. I love going to the movies (several times a week), binge watch TV series – but who doesn't?! At the moment, I watch The Great and the latest season of Las Chicas del Cable (yes I have a real love for telenovelas, don't judge me! And I read a lot of fantasy, like right now I'm into The Gift by Fiona MacIntosh. Then I have a passion for food (give me potatoes in all its forms, I'm happy) and notebooks – I have hundreds of them. The rest of the time, I write, hence the hundreds of notebooks; currently I'm working on a children's book, a series on social riots in 1967, a film on the Chlordecone poisoning scandal in the French West Indies, and educational videos on storytelling for a YouTube channel focused on virtual production, in which I participate.
Quantic Dream: All right! What does your perfect Friday night look like?
It depends on my mood. If I'm in a sociable mood, I'd say my ideal Friday night is with friends partying (I looooooove to dance). And if not, give me fries, give me a blanket, a TV show…. And everything is perfect
Quantic Dream: Do you have a message for our readers?
Eat potatoes and be happy?
Quantic Dream: Final question! Chocolate cake or Fruit pie?
Chocolate cake, no question asked. In fact, anything with chocolate. Chocolate is life.