SPOTLIGHT BY QUANTIC DREAM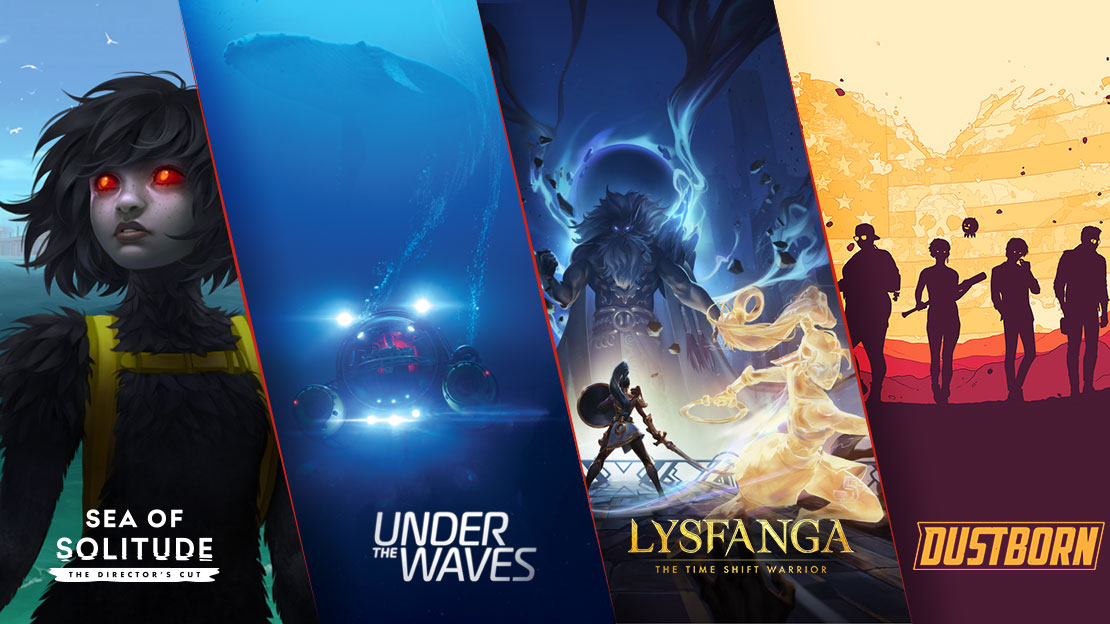 When in 2019 Quantic Dream made the decision to self-publish its own games on PC – Heavy Rain, Beyond: Two Souls and Detroit: Become Human – there was also a desire to bring games created by other independent studios into the near future, and to give them the benefit of more than two decades of experience and skills.
Sea of Solitude: The Director's Cut (you can discover it by clicking here) had inaugurated these new publishing activities, with Jo-Mei Games becoming the very first external studio to be supported by Quantic Dream on a technical, technological, artistic, logistical and human level. In 2023 and beyond, the pace of releases will accelerate, with Under The Waves, Lysfanga: The Time Shift Warrior, and Dustborn.
It is under the Spotlight by Quantic Dream banner that this third-party catalogue will evolve from now on. With this label, created by developers for developers, Quantic Dream is committed to the serene growth of each game, to help creative teams achieve their goals and bring their games to players around the world. It's also a seal of quality, ensuring our players and community we have carefully selected the project and the team behind it.
UNDER THE WAVES
Created by the talented French team of Parallel Studio, Under the Waves is a narrative adventure game that we revealed last August (you can read the interview with Game Director, Ronan Coiffec, by clicking here).
The journey of Stan, a professional diver who gradually sinks into solitude in the deepest part of the North Sea, is revealed a little more in this second trailer.
Under The Waves will be released on August 29 on PC, Xbox Series S/X, and PlayStation 5.
Be sure to get the latest news by staying tuned to UnderTheWavesGame.com and by following Parallel Studio on Twitter.
To ensure the scientific and ecological authenticity of Under The Waves' messages about the state of the oceans, we called on Surfrider Foundation Europe to create
a partnership that could make an impact on the game, but also in the real world. Based on over 25 years of academic research and fieldwork, Surfrider's international expertise allowed the Parallel Studio team to add context throughout Stan's adventure with in-game integration of their messages, log entries on the flora and fauna, dedicated achievements/trophies to unlock, and more. Quantic Dream is also proud to support Surfrider Foundation Europe's mission through a monetary donation.
LYSFANGA: THE TIME SHIFT WARRIOR
The first game from the new French studio Sand Door, Lysfanga: The Time Shift Warrior is a tactical hack 'n' slash coming this year to PC. You are Imë, a powerful warrior who must ensure the safety of the New Kingdom against hordes of demons, escaped from ancient cities once sealed in time. But she is not alone: gifted with temporal powers from the Goddess of Time herself, Imë has the ability to rewind time in combat and summon clones of her past self, to fight with an army of her own. Check out the world premiere reveal trailer:
Be sure to get the latest news through the official website and by following le compte Twitter.
DUSTBORN
Imagined and brought to life by Ragnar Tørnquist and Norwegian studio Red Thread Games, Dustborn is an action-adventure game that takes you on a road-trip in a vibrant and perilous post-infodemic America. It's a story about hope, love, friendship, robots – and the power of words.
Dustborn is currently in development. Be sure to get the latest news through the official website www.wearedustborn.com and the official Twitter account.