QD & ME – BENJAMIN DIEBLING – Director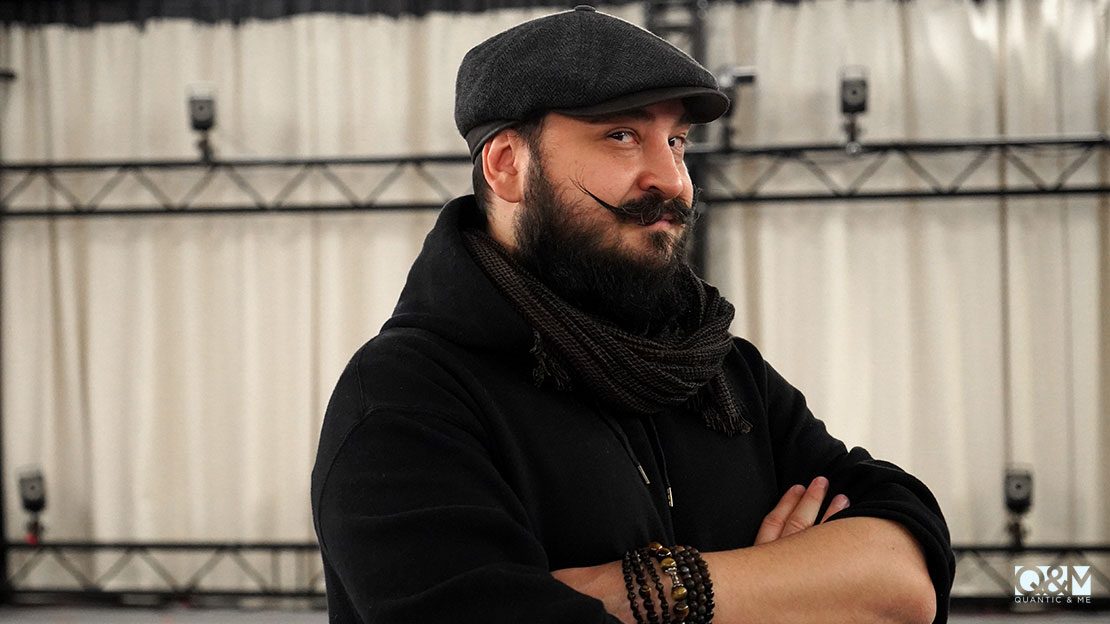 Quantic Dream: Please introduce yourself! What's your name, where are you from, and what is your role at QD?
My name is Benjamin Diebling, I was born in Paris, but I grew up in the south of France, in Hyères on the French Riviera. I came to Paris almost 15 years ago to study cinema and now I am the Director at Quantic Dream.
QD: How did you come to work in the video games industry? Was it a lifelong dream, or did you luckily stumble into it?
Both. I have always loved video games and have been playing them since I was a kid. The first one I've ever finished (thanks to my three older brothers) has to be Rick Dangerous on Atari in 1993, followed by The Legend of Zelda: A Link to the Past on Super NES, and this is how I became hooked. I spent hours introducing my little sister to Final Fantasy and playing Street Fighter III 3rd Strike, Tekken 3 and MicroMachines V3 with my friends. I've always been a gamer and it's contributed a lot to my passion for fantasy worlds.
However, I had not considered working in this field, and after studying physics and maths, I turned to film, another great passion. After a degree in directing, I applied to a French studio as a cameraman/editor. I was hired, and two weeks later, I started my first shoot with Elliot Page and Willem Dafoe on Beyond: Two Souls! An amazing experience, I spent my days learning about motion capture directing and the technology used, which was much less popular in 2012 than it is today! Then we shot The Dark Sorcerer, another fascinating work experience. Right after, I went to Australia to do a Master degree in screenwriting, wanting to refocus on script theory. When I returned to France, Quantic Dream reached out to me for a project based on the short movie Kara, Detroit: Become Human.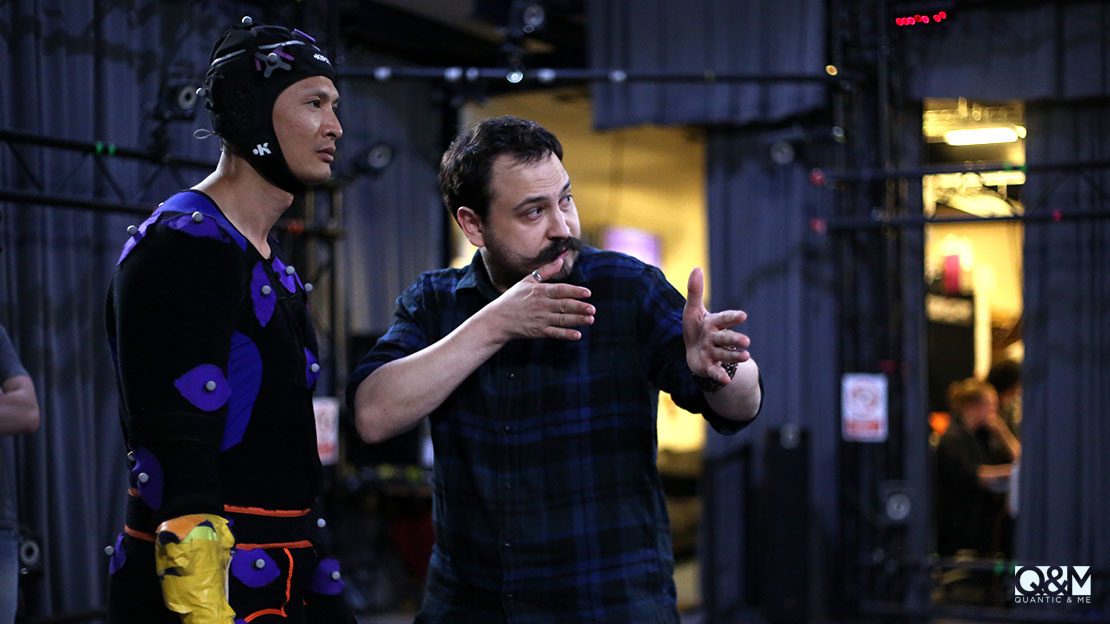 QD: Let's talk about your job at Quantic Dream! Could you elaborate more on your role, and the role of your team?
My role is that of a director, which means that I deal with the usually creative matters that revolve around filming and cinematography: casting, directing, stunt choreography. I work with the Game Director, David Cage, to discuss the direction of current projects; communication is key, a 5-minute discussion can sometimes save days of work! What I particularly like is that I get to collaborate with all the other teams in the studio, be it animation, game cameras, gameplay, art direction, writing, lighting, sound…
I also supervise the motion capture Shooting team: it goes from creating props for the set, to moodboards, to making sure our actors are delivering the right performance for every character, and so on. And the same goes for any kind of external production or third party game, such as Sea of Solitude: The Director's Cut for instance. Our set is also regularly used by other studios. Among these shoots, we can mention the Story Trailer of Elden Ring (the game I'm most looking forward to in 2022!), the trailer of Beyond Good and Evil 2, the trailer of Baldur's Gate 3, the intro scene of the movie Kingsglaive: Final Fantasy XV, or even episodes of the Netflix series Love, Death & Robots. So many opportunities to collaborate and work with other teams. Along the same lines, I had the chance to work on a short movie for Balenciaga, as a Director; that was another complex and rewarding experience, before moving on to the first trailer for Star Wars EclipseTM.
QD: Tell us more about the members of your team. Any fun story to share?
The team grows depending on our needs; currently I work daily with Alexandre Bremard, who is the studio's First Assistant Director. He's my right-hand man, and a real jack of all trades. We both come from film backgrounds, and we constantly exchange ideas to overcome challenges, such as "managing a shoot with live broadcast cameras from Japan, with three different languages on set and an online translator, all with a very tight schedule and stunts to do"! 😅
And for anecdotes, I have dozens, and it would take hours to tell them all. I can tell you about the time Valorie Curry was so amazing in her performance that I forgot we were on a film set, I had tears in my eyes; or the ten days of filming with Clancy Brown and Bryan Dechart. These were a daily learning experience on directing and a real epiphany on how certain fictional characters are born. I also have a wonderful memory of a discussion with Lance Henriksen, where he told me about his passion for sculpture and pottery. It's a great joy to be in a team that works with so many different profiles.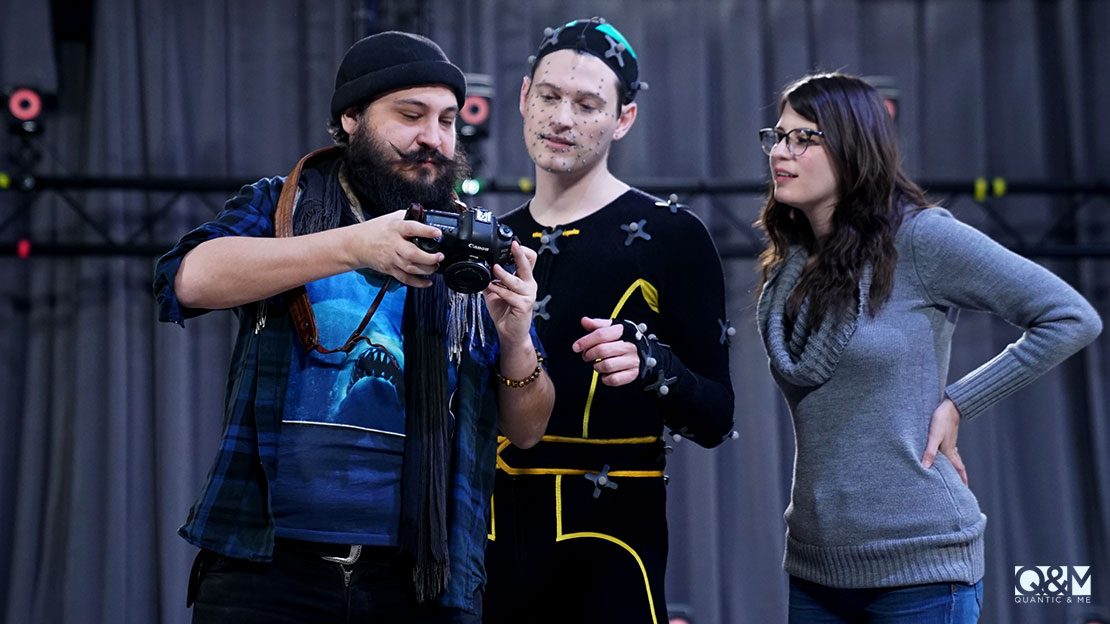 QD: Can you describe to us a typical day for you? Does a typical day even exist for you?
So there's never a typical day and that excitement is the real lifeblood of a Director's job. And then, in addition to the shoots with external studios, we are currently developing multiple projects in-house, and that's very refreshing as well. You must change your vision every time you switch from one of these projects to another. But this is not the time to talk about it yet 😉
QD: What are your external inspirations that are reflected in your job?
Unconsciously, yes. It's inherent in the creative process, and filmmakers usually go through an absorption phase and then a communication phase through the target medium, so it's a question of what you're going to absorb. I am for example a lover of documentaries, it inspires me to look for those incredible events in our world that make the real more fantastic, more implausible and even richer than what fiction can be. I think that to connect the viewer to any fictional character you need to anchor it in the reality of the story, and for that nothing better than to draw inspiration from our world. It also allows us to always evolve the way we tell a story.
Another strong inspiration is David Fincher's vision of body language through the camera. Fincher says that in "emotion" there is "motion". You convey as much through dialogue as through movement, whether it's through the camera or through the body language of a character. It's quite fascinating to apply this to motion capture, which often focuses on pure body expression to tell a story. Outside of performance capture shootings, where voice and facial expression are also filmed, you only have the body to express an intention.
And finally, there's tabletop role-playing: the game leader must create and share a collective imagination through an interactive story, and this is quite close to my job, particularly when it comes to working on stories with branches and projecting the actors into fictional universes. It's already a feat to create a fictional character on a classic shoot, so in motion capture, where the actors are in neutral suits, on a set without scenery, with props made of bits of cardboard, sometimes it's a miracle! Imagination, and the Director's ability to share it with the actors, is crucial. I often notice that role players understand Quantic Dream's branching story system very easily.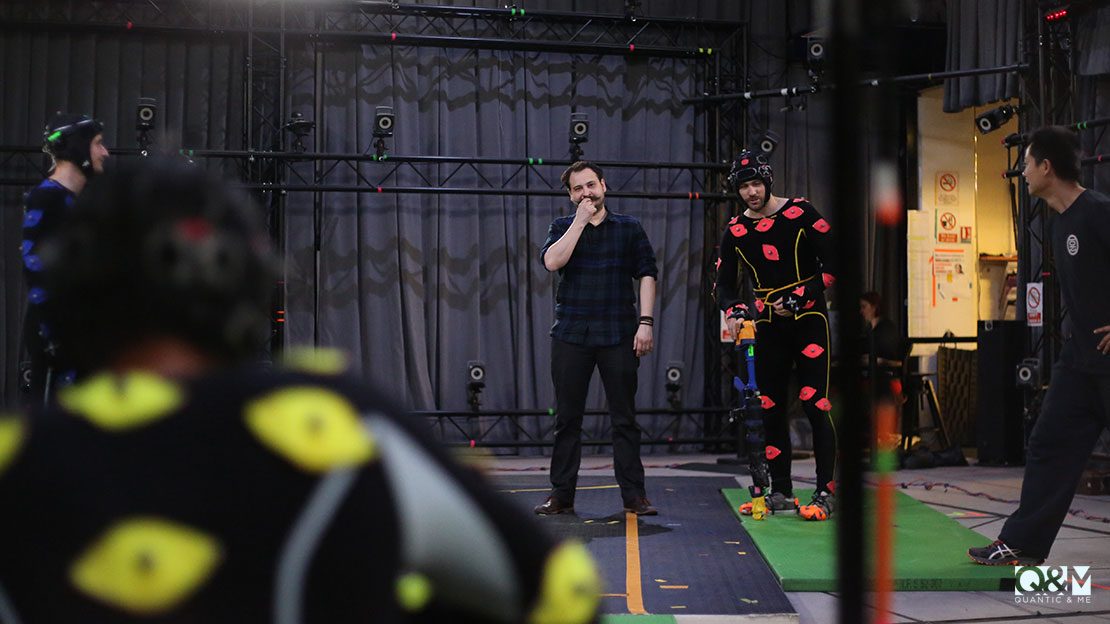 QD: Be careful, BIG question… What are your favourite games?
There's so many… I could mention Bloodborne which I frequently dive back into, or Skies of Arcadia, Journey, Inside, P.T., Resident Evil, Silent Hill 2, The Last Door, Myst, Grandia, Heart of Darkness, The Legend of Zelda: A Link to The Past, Metal Gear Solid… It's impossible to mention them all! What I love most about a video game is its ability to convey emotions through a unique setting, whether it's dread, wonder, anger or the simple pleasure of exploration. We are living in the richest period in terms of fictional universe creation, and I think this is partly due to the fact that we are the generations stuck between the great period of exploration of our planet and, hopefully, the advent of space conquest. In the absence of opportunities for discovery and exploration of space, I think it makes sense that humanity has, among other things, started to create fictional universes to explore.
QD: Tell us more about your hobbies outside of work.
I love to travel, especially to Russia where my partner is from. I can also spend my nights watching documentaries about space, animals or fantastic stories. And I can spend hours at the stove cooking or looking at recipes to try, I have an unconditional love for Italian food and cheese (did you say Parmesan?!). I'm also lucky enough to write role-playing books and it's a great adventure every time; I explore various universes such as dark fantasy, post-apocalyptic, H.P. Lovecraft-style contemporary investigations or feudal Japan. I learn a lot about these subjects, diving into genres over shorter periods than I would during the span of a video game's development. This love for tabletop has even led me to co-found Let's Role, an online plateform dedicated to role-playing.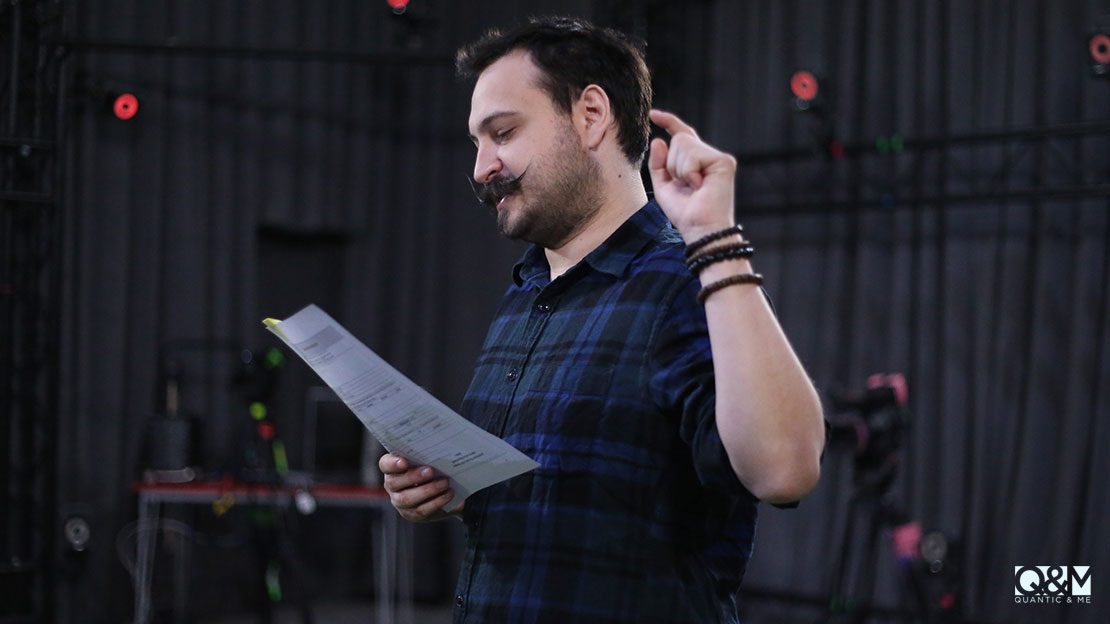 QD: All right! What does your perfect Friday night look like?
A nice beverage – ideally of red wine – and good friends. Then, if there's a role-playing game or a cool bar in way, it's even better. And if there's a nice cheese board, the picture is perfect. Since I'm lucky enough to have passionate and exciting people around me, discussions are often lively, especially about movies and video games. That being said, the pandemic has reduced the number of physical interactions, so a Friday night is often an online role-playing game, or a movie at home.
QD: Do you have a message for our readers?
Best wishes for 2022 and may the Force be with you!
QD: Final question! Chocolate cake or Fruit pie?
I'm more of a salt person, but if a dark chocolate tart with a touch of sea salt is involved, count me in! There's an ogre in me when it comes to food, so I could make an effort to have that nice dessert during my second breakfast if I have to! 😉